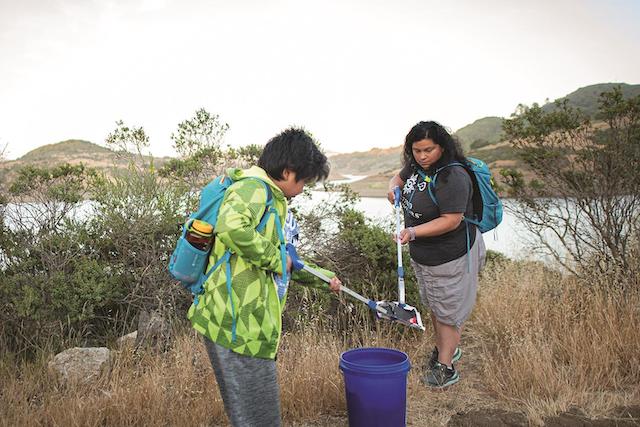 (NewsUSA)

- This year, on June 4, millions of people across the United States will hit the trail, any trail, to celebrate the 30th annual American Hiking Society's National Trails Day.® This year's celebration focuses on encouraging novice and veteran trail lovers to come together to leave trails and the outdoor community better than they found them. Hikers, cyclists, horseback riders, paddlers, trail clubs, federal and local agencies, land trusts and businesses will partner at events across the country to forge a more inclusive trail community and advocate for, maintain and clean up trails and public lands.
American Hiking Society and the nationwide trails community invite people of all ages and abilities to connect with their friends and neighbors around the joy of being outside. Anyone can join the national movement by giving back to the trails to help ensure that everyone can enjoy the outdoors.
"There's something magical about being outdoors," says Kate Van Waes, Executive Director of American Hiking Society.
"Fresh air, birds singing, moving along a trail, or even just around the block; there's nothing quite like it," she emphasizes. "But today, those trails and green spaces are in dire need of help, and not everyone has access to or feels welcome in these places that can calm and inspire," Dr. Van Waes explains.
"National Trails Day is the perfect opportunity to get out there with the people you love, give back to the trails that bring us together and make sure no one is left out."
Not just on National Trails Day, but any day is a great time to commit to keeping the outdoors accessible and restorative for all.
Some ways you can make a difference include:
- Join a local trail event, or start your own. Search the American Hiking Society website for events in your area.
- Take the National Trails Day Pledge, and commit to leaving the trail and the outdoor community better than you find them. For example, take a trash bag with you on a walk or hike. Or speak up and tell your Members of Congress to support the Transit to Trails Act. You'll be entered to win prizes from National Trails Day sponsors AKHG by Duluth Trading Co., Athletic Brewing Co., REI Co-op, Osprey Packs, and more.
- Share how you'll leave the trail and the outdoor community better than you found them, and tag #NationalTrailsDay and @AmericanHiking on social media. Photos and videos tagged on Instagram will be entered into the National Trails Day® photo contest for a chance to win premium gear prize packages.
Visit americanhiking.org for more information and to find events near you.
American Hiking Society's National Trails Day® is made possible by the generous support of corporate sponsors -- AKGH by Duluth Trading Co., Athletic Brewing Co., REI Co-Op, and Osprey Packs. federal partners include the National Park Service, Bureau of Land Management, Federal Highway Administration, and U.S. Forest Service.
Photo credit:Verónica Miranda